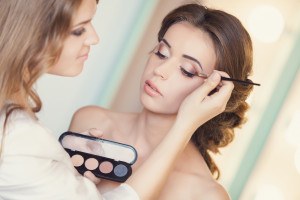 When planning a wedding, it is very easy to get overwhelmed with your many tasks. From picking a venue to securing the décor, as a bride, you have a massive number of things to handle before your big day. However, it is very important that you think about yourself during the planning process as well.
Your wedding day will undoubtedly be one of the most special events of your life, and with so many cameras around, you need to look beautiful. From your eyebrows down to your toes, there are a plethora of things you need to tackle during the month leading up to your walk down the aisle.
Month of Wedding Beauty Checklist
Are you a month from becoming a "Mrs"? Check out this list of beauty tasks you need to complete before your big day.
Makeup Trial
On your wedding day, your makeup can make or break your bridal look. And if you are someone who doesn't frequently wear makeup or get it done professionally, it can be a bit tough to figure which look suits you best. Because of this, it is a good idea to choose a makeup artist and do a makeup trial the month leading up to your wedding day. This allows you and the artist to create something that you are comfortable with now and will be comfortable with in the future. Also, be sure to take pictures so the makeup artist can recreate the look with ease on your big day. This can also help cut down on the time it will take to get your makeup done the day of as well.
Eyelash Extensions
If you are considering getting eyelash extensions, now is the perfect time to get them installed. Whether you decide to get classic lash extensions or specialty volume lashes for an exceptionally natural look, booking your appointment a few weeks before your wedding day is best. By doing this task earlier on, you can get a better feel for your lashes and make modifications over time to create the perfect lash look.
Waxing
From your legs to your arms to your bikini area, hair removal is something that is probably high on your wedding day prep list. To help you keep the hair away longer, you should consider waxing these areas. However, don't wait until the last minute to do so.
Waxing can cause redness in some areas, so to avoid blotchy skin on your wedding day, make your waxing appointment at least 2 weeks beforehand.
Eyebrow Maintenance
Your eyebrows serve as a major focal point for your face, therefore, they are very important. To ensure your brows are on point for your walk down the aisle, book your brow appointment with a brow expert for an eyebrow threading session.
If you have eyebrows that need a little TLC, eyebrow extensions are something you should look into. Eyebrow extensions work by literally adding in individual hairs to create a fuller brow. And for a brow transformation, they're well worth it!
Tanning Session
In your wedding dress, you want to look flawless and that includes glowing skin! So, instead of hitting the tanning beds or baking in the sun, a great way to get a sun-kissed look without the sunburn is sunless tanning. Sunless tanning sessions are customizable so you can get a natural looking color that won't make you cringe when you look back at your wedding photos years down the road.
To prevent yourself from having any mishaps, book your sunless tanning sessions out over the month of your wedding to ensure you have the perfect glow.
Mani and Pedi
Your hands will get some major play on your wedding day, especially your ring finger. That is why it is important that you have an immaculate manicure and pedicure. While this is a beauty task you probably do often already, your wedding day mani and pedi need to be extra special. While this task can be put off until the week or even a few days before your wedding, you still need to put in some effort by adding it to your list and checking it off.
Wedding Prep Services from Luxx Lash Salon & Boutique
The closer it gets to your wedding day, the busier you will become. However, with this list in hand, you will be able to tackle these wedding day beauty tasks with ease.
If you are ready to get started on your list, contact Luxx Lash to book your appointment. Lash extensions, sunless, eyebrow waxing, and eyebrow extensions… we do them all!