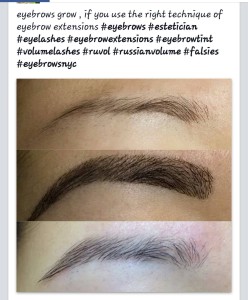 Eyebrows are details on our faces that make really big statements about a person and their expressions and emotions. Are your eyebrows too short or patchy? Have you always wanted richer, fuller brows but had no way of getting those genes from your parents? (Mom wants thicker brows too. Bring her to Luxx Lash for Mother's Day!) The solution to thick and shapable brows is at Luxx Lash Salon! Our eyebrow extensions are semi-permanent, can last nearly a month with proper care, and are the perfect solution for full eyebrows.
Revive-A-Brow Extensions
At Luxx Lash, we specialize in eyelash extensions, sunless tanning services, and now eyebrow extensions. Available in four different shades and levels of thickness, our Revive-A-Brow Extension Sets are waterproof, hypoallergenic and sweatproof. Simply pick a shade and a level, and we'll do the rest.
Level 1 of the Revive-A-Brow program is best for filling in the heads or tails of eyebrows, or covering up small scars. Level 1 adds 25 percent eyebrow extensions to 75 percent natural eyebrows. This level carries a normal cost of $149; $99 for Luxx Members.
Level 2 of our eyebrow extensions program is great for those who want to fix problem areas and add volume to their eyebrows. Level 2 is half-and-half; 50 percent natural eyebrow and 50 percent eyebrow extensions.This level costs $249; $199 for Luxx Members.
---
Want thick, full eyebrows? Call us to set an appointment or stop by Luxx Lash today!
---
Level 3 takes our eyebrow extension program is best for those with very sparse eyebrows. We use 75 percent eyebrow extensions and 25 percent natural brows to create shape and fullness in your brows. The rates at this level are $349; $299 for Luxx Members.
Level 4 is reserved for those who have lost their eyebrows to medical conditions, or who have never had them at all. We will design the eyebrow shape and form to your preference and fill them in with 100 percent eyebrow extensions to fullness. The rates at this final level are $449; $399 for Luxx Members.
Re-Brow Fills
It should be repeated that Revive-A-Brow extensions are semi-permanent, and as such, you'll have to get them maintained every so often. Like the extensions themselves, our Re-brow sets come in four levels. The costs for these eyebrow refillings are listed below:
Level 1 Re-brow: $55; $45.99 for Luxx Members
Level 2 Re-brow: $75; $65.99 for Luxx Members
Level 3 Re-brow: $95; $75.99 for Luxx Members
Level 4 Re-brow: $105; $95.99 for Luxx Members
All Re-brow and Revive-A-Brow sets include a brow tint of your choice. Choose from Blonde, Auburn, Medium Brown and Dark Brown.
Applied only by trained professionals, our Revive-A-Brow eyebrow extensions and subsequent Re-Brow fills are a great option for those born with thin or patchy eyebrows, or those who desire thick, full eyebrows where there are none. They can be applied to natural eyebrow hair and skin, they increase the natural hairline, thicken the brow, and can be matched to the natural shade of your eyebrow.
Our eyebrow extensions are completely pain free and low maintenance, and the can easily be removed if necessary. Non-fading and smudge-proof, our Revive-A-Brow sets last up to 21 days of perfect, natural-looking eyebrows. So if you're looking for a more youthful appearance, set an appointment for the Revive-A-Brow program at Luxx Lash. You're sure to get the eyebrows of your dreams.