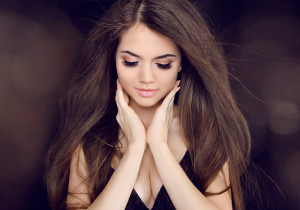 Volume lashes are a relatively new technique that was introduced to North America's lash extensions industry in 2013. Also referred to as "Russian Volume Lashes", volume eyelash extensions originated in Russia and Ukraine. Their popularity has since spread all over the world, as the desire for full lashes is a universal desire among many clients around the globe.
What makes volume lashes different from classic eyelash extensions?
There are two different characteristics clients desire in their eyelashes: length and fullness. While classic eyelash extensions add moderate to extreme length to your natural lashes, volume lashes are used to improve their texture, depth, and ampleness. Many clients are happy with the natural length of their eyelashes but desire a fuller look, as their lashes are fine or scarce. Prior to the introduction of volume eyelashes, eyelash extension artists could only attempt to create the desired look with thick and heavy single lashes, which most natural lashes cannot safely support.
Volume lash extensions were designed to fill in the gaps where classic eyelash extensions could not. This technique allows artists to apply multiple extensions to one individual eyelash. Each extension is extremely light and thin compared to the previous thicker options, creating a fluffy and soft appearance that is not heavy or damaging to the natural eyelash. In addition, despite the common misconception that more volume = more adhesive, these lashes require only a fraction of the glue used with older extension techniques.
Due to their lightweight nature, volume lashes allow for more customization than classic eyelash extensions. They are also darker than the eyelashes in classic sets, adding a striking richness to your overall look.
---
Do you feel like your lashes could use a little TLC? Browse our Before & After photos to see what a difference volume lashes can make!
---
How much volume can I add to my eyelashes?
One of the best things about volume eyelashes is that the client has the option to choose how much or how little volume he/she would like to add to their natural lashes. There are 8 different kinds of volume lash extensions, varying from 2D lashes (2 false lashes per one natural eyelash) to 3D lashes, all the way up to 8D lashes (8 lashes per one natural eyelash). The options a client chooses can vary depending on the level of necessity and intensity desired.
Service and Experience at The Luxx Lash Salon
At The Luxx Lash Salon, our main focus is to maintain the comfort and safety of our clients in an upscale environment. Our highly-trained, board licensed lash artists use only the finest quality materials to enhance your natural beauty. Like with all of our services, you will enjoy aromatherapy, a heated neck wrap, and a lavish blanket to help you relax before the volume lash application begins. While applying lash extensions is an extremely technical and skilled procedure, you can be at ease knowing that you are in the hands of the best eyelash technicians in Dallas.