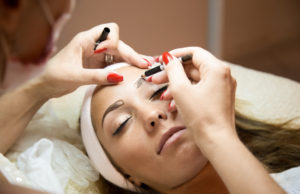 Admit it, sometimes during the winter months we let a few things go. Many of us are guilty of slacking a little on our beauty treatments during the cooler months.  Totally normal, but it is spring now, so it is time to get back on track, time to get "done up" for summer.
Wax On, Wax Off! Smooth Skin For Summer
Nothing accentuates shorts, or sundresses better than smooth skin.  Luxx Lash Salon & Boutique offers many waxing services to keep us feeling gorgeous. Everyone has their own look and needs, so Luxx Lash Salon offers waxing treatments for small areas like eyebrows and lips, to larger areas including chest, back and abdomen.  Waxing the legs and bikini area are a necessity this time of year, so we offer different waxing options to accommodate all of our clients. We guarantee a tranquil and comfortable environment, paired with customized techniques to make your waxing experience as painless as possible. You need to feel cared for in your spa experience, so Luxx Lash Salon & Boutique puts our clients' needs above all else.
Get A Glow Without The Damage From Sunless Tanning
A summer glow of color makes us look and feel healthy.  We all know how damaging the sun can be to our skin.  Sunless tanning is the way to attain that summer radiance.  It is the healthier and safer way to "tan."  At Luxx Lash Salon & Boutique we will customize your color based on your skin, hair, and eyes, so that your color looks natural and compliments all of the other beautiful things about you.  The summer-you will be getting more compliments than ever before.
So what about your face? Getting a facial should be all about improving your skin and complexion. It is best in the summer to get a facial that nourishes and infuses your skin with antioxidants. You want to have skin that has a natural radiance, hopefully enough to get away with no makeup or simply a tinted moisturizer.  It is best to do your facial before you get your sunless tan.
Make Your Eyes Pop With Eyebrow Microblading And Lash Extensions
To compliment your glow, it is time to enhance your eyes.   No matter blue, brown, green or hazel, those beautiful eyes will look even more alluring if framed with full lashes and eyebrows.  Luxx Lash Salon & Boutique is the place to go to for your perfect eye look.  Your eyebrows frame your eyes, so you want them to look manicured and full. We offer eyebrow microblading and extensions.  Eyebrow extensions will give your look a fresh and youthful upgrade while microblading will give you natural looking brows that last up to two years. To get the full lash effect, we offer classic lashes or volume lashes which may allow you to leave your mascara in the drawer and go all the way with the no-makeup face for summer. Whatever service or services you choose for your summertime look, Luxx Lash Salon & Boutique is ready to fulfill your wishes.
Mani Pedis To Top It Off
It is time to break out your favorite summer sandals. You can't do that until you get your first pedicure of the summer.   Our feet have been in hibernation all winter, inside of warm socks, heavy boots or sturdy athletic shoes. If you have had a pedi over the winter, you may have those dark winter colors on your toenails, like burgundy or plum.  Now is the time to do a summer color. In 2012 Allure magazine suggested some "vibrant, sweet, sexy" colors for your pedi.   Go to your favorite salon to get your feet and toes summer ready with a fully pampering pedicure, then finish it off with a fun summery color on your toenails.
Luxx Lash Salon & Boutique Can Help You Get "Done Up" For Summer
The final touch to getting done-up for summer is what you wear.  Sundresses, light scarves, swimsuits, and shorts will keep you feeling cool and beautiful. The boutique at Luxx Lash has some wonderful items to choose from that will top off your summer wardrobe.
So whether you are looking to get your eyebrows microbladed or a get a quick sunless tan, Luxx Lash Salon & Boutique can help you get "done up" for summer. Get in touch with us today and make your appointment!
After you finish getting done-up for summer, plan a date with your favorite person.  You will feel beautiful and that feeling will shine brighter than the summer sun.