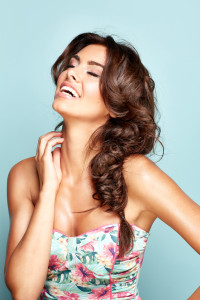 When it comes to beauty, there's nothing that gives your skin a healthy, sexy, and glowing appearance like a good tan. Whether you're in cut off shorts and a crop top on the beach or a white wedding gown walking down the aisle, a tan looks great no matter where you are or what you're wearing. While the traditional way to achieve this bronzed look is to lie out in the sun, research has shown that prolonged sun exposure leads to premature aging of the skin as well as an increased risk for skin cancer. Luckily, there are many other methods that provide safer alternatives to sun tanning. Of all of the different options, however, spray tanning is the most customizable and natural looking.
As a local beauty salon offering everything from eyelash extensions to eyebrow threading, we know a thing or two about sunless tanning. Here are a few things to DO and DON'T before, after, and during your spray tan.
DO research
Prior to making an appointment for any beauty treatment or service, it's extremely important to do a good amount of research. Unfortunately, many salons do not deliver on the services that they offer, whether it's due to a lack of experience or the use of poor products. Sunless tanning in particular requires expert customization and application. Otherwise, you could end up looking too dark, too orange, or like you don't have a tan at all.
Do a quick Internet search to find salons in your area and read the reviews for each one. Then, visit the salon's website or contact them to learn more about their sunless tanning services, their process, and what types of products they use. For example, Luxx Lash Salon & Boutique uses organic Sjolie Sunless products and equipment, a premier spray tanning solution and the best equipment in the industry, on all of their clients.
Once you've found a salon that you feel comfortable with, you can schedule your appointment knowing that you'll look nothing short of spectacular after your spray tan.
DO consider your skin tone 
Too often, men and women look orange or unnatural after getting a spray tan. This is caused by a failure to select the appropriate color and shade. Although you may desire a specific color or look, be mindful of your natural skin tone. For instance, if you have very fair skin, it's best to stick with the lightest tint available as you will require the use of more product. Darker skin tones are more sensitive to color and absorb the tanning solution quickly; so medium to dark tones are a better fit.
Most top salons offering sunless tanning, such as Luxx Lash Salon & Boutique, will customize the tanning solution to the best shade for your skin tone. This eliminates the pressure on you to select the right color and results in a fabulous tan each time.
DO get other beauty treatments before your sunless tanning appointment
Although it may be tempting to schedule your spray tanning appointment on the same day as your other beauty treatments, it is not at all recommended. Waxing, facials, and massages should be completed at least 24 hours prior to sunless tanning. The products and oils applied during these procedures can leave a barrier on your skin, preventing it from properly absorbing the tanning solution. Also, be sure to get manicures and pedicures before the tan is applied, as foot and hand scrubs can rub away the color prematurely.
Want to learn more about what you should and shouldn't do before and after your sunless tan? Check back next week for Part 2!