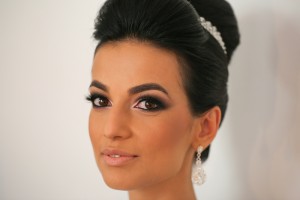 If you are a bride-to-be, your upcoming wedding will undoubtedly be one of the best days of your life! With all of your family and friends in one place to celebrate your nuptials and pictures galore sure to ensue, you want to make sure you look your absolute best at all times and at every angle.
A lot of brides opt to have their hair and makeup done professionally for their big day, which usually includes false eyelashes. However, what many may not realize is that with falsies come concerns like if they will look natural or if they will slip off if you cry.
If you have any of these thoughts dancing in your head, it might be a good idea to forgo falsies and get lash extension installed instead for your big wedding day.
3 Reasons to Get Lash Extensions for Your Wedding Day
1) They Have Staying Power
With falsies, your lashes only last 24 hours, and sometimes, they don't even last that long. When you choose lash extensions, you get a semi-permanent application that ensures that you will have beautiful lashes for your wedding day and beyond. Lash extensions that are professionally installed can last up to eight weeks if properly cared for. Because of this, you can even have them installed early if needed. This way, you look flawless for your other wedding festivities like your bachelorette party and bridal shower, too.
2) They Are Waterproof
Your wedding day will probably be emotional and full of happy tears. The last thing you want to worry about when you are saying your vows or during your first dance is whether or not your eyelashes will fall off if you tear up. With eyelash extensions, you don't worry about ruining your eye look. Nor do you have to worry about retouching or re-gluing your lashes like you would with false eyelashes. And when the wedding and reception are done, you're also already set for your honeymoon. In fact, with extensions, you can roll out of bed and not worry about mascara for added length and volume.
3) They Look More Natural
On your wedding day, you want to look like yourself, but just a bit more dolled up. When you look at your pictures and videos years down the road, you want your glam to be classic and not over the top. Therefore, it is best to go with a natural lash extension look for your big day.  With lash extensions, this is easy! Since the extensions are applied one lash at a time, you are able to work with your lash extension professional to choose a more natural, custom look. You can also specify the length, thickness, color and even design of your extensions that best fits your look.
All in all, when it comes to your wedding day, lash extensions are just better! And as the bride, you deserve the absolute best.
One-Stop Shop for Lash Extensions, Eyebrow Extensions, and Sunless Tanning
With convenient locations in both Richardson and Addison, Luxx Lash Salon & Boutique is the Dallas' premier place for you to get your eyelash extensions. But, at Luxx Lash Salon & Boutique, it doesn't stop there! We are your one-stop upscale salon for your pre-wedding lash extensions, eyebrow extensions, waxing, and even sunless tanning.
Contact Luxx Lash Salon & Boutique to schedule your appointment today.