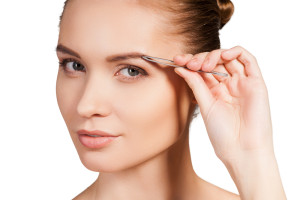 If there's one beauty trend that defined the year 2015, it's "eyebrows on fleek". Perfectly shaped brows have become more than just good grooming – they're a must-have fashion accessory. With hundreds of video tutorials and Pinterest manuals on how to get the perfect brows, we don't see this trend going anywhere anytime soon. From eyebrow extensions to tweezers, here are a few tips to help your brows reach their full "fleekness" potential.
Find an Eyebrow Threading Artist You Love
The internet is full of them – horror stories of eyebrow waxing and threading. Unfortunately, many people fall victim to inexperienced, and even unqualified, eyebrow artists that damage the shape of their brows. If you are new to eyebrow threading or are looking for a more seasoned artist, find a beauty salon that specializes in eyebrows rather than one that includes eyebrow threading on a menu along with 100 other services. Rather than just hiring anyone who threads eyebrows, these salons recruit only those who are masters of the art of eyebrow shaping. Once you find an artist you trust, don't let them go!
Invest in a Good Set of Tweezers
Most people visit the eyebrow salon at least once a month to maintain their shape. However, depending on your hair growth rate, you may need to keep a set of tweezers in your makeup bag to keep them well-groomed in between. You can find good tweezers anywhere from drug stores to high end makeup counters. No matter what brand you choose, make sure that it feels comfortable in your hands.
The best time to tweeze your brows is right after a shower, when your pores are open and relaxed. Do your best to stay as far away from the shape as possible. Only pluck the hairs that are a safe distance away. A magnifying mirror and good lighting can help you get a closer look and nip any stray hairs right out of the bud. If you fear you might go a little tweezer-happy with your brows, solicit the help of a friend.
Fill Them in (Naturally)
Sharpie eyebrows belong back in the 90's, not on your face. While filling in your eyebrows with makeup can create a beautiful, bold look, you don't want to overdo it to the point where it looks unnatural. Instead, use an eyebrow pencil or eyebrow powder on an angled brush a shade or two lighter than your natural hair color. Apply the powder or liner in strokes, following the existing shape of your brows. Remember, you don't want to recreate the shape, but rather emphasize it. When you're done, lightly brush a highlighting product directly beneath the brows to further enhance the arch and shape.
Try Eyebrow Extensions
For those of us not naturally blessed with full, thick, dark eyebrows like the Kardashians and Cara Delevingne, flawless brows are still possible. Eyebrow extensions are a safe, effective way to achieve a perfectly beautiful shape. Unlike eyelash extensions, which can only be applied to existing natural eyelashes, brow extensions can be applied directly to the skin with a special skin glue, even in areas where no hair is present. This allows unlimited potential for eyebrow shaping, and makes it a great option for women who have gone through chemotherapy or suffer alopecia.
Statement brows do more than just add beauty, glamour, and youthfulness to one's appearance – they also provide a huge boost of confidence, allowing your inner beauty to shine, as well. Contact Luxx Lash Salon & Boutique to schedule an appointment and get the eyebrows of your dreams!