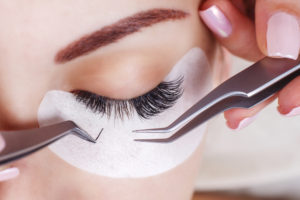 It has been proven that women spend a good chunk of their lives doing makeup and putting extra attention into their eyelashes. This is a good and bad thing because there are so many other things that they could be doing during that time.
Many women have recently realized this theory and have begun to take part in the eyelash extension revolution. With eyelash extensions, life is just easier as far as makeup goes. However, these extensions don't last forever and can be quite costly. Find out how you can extend the life of your next set of extensions.
The Big Do Nots
Instead of starting out with what you should be doing, we have decided to go over some of the major things to avoid while you are living with eyelash extensions. Your eyelash extensions are an investment towards your outer beauty and you don't want any simple mistakes to mess up your look. Here are some of our tip things to avoid during the aftercare process of your lashes.
Do not use oil-based cleaners or makeup removers
Do not rub towels over your face when drying your face; remember to pat dry
Be wary of the water pressure that hits your eyelashes in the shower
Do not use wet-based mascaras on your lash extensions
Sleep on Your Back
The position that you sleep in is important because after your application, the glue on your lashes needs some time to dry completely and you want to avoid messing them up within the first two nights. We suggest that you sleep on your back so that your lashes can have plenty of opportunity to completely dry and keep your look lasting longer.
Be Prepared to Give Them Lots of Attention
Your eyelash extensions are a delicate part of your body now, so you need to be ready to give your lashes the attention that they need to last. One of the ways to take care of your lashes is to gently go over the area with a cleansing wipe and avoid using cotton pads and puffs. You don't want to weaken your lashes and walk around town with cotton fibers stuck in your investment.
You will also want to regularly oil your extensions up to keep them flexible. All this takes is a small drop of baby oil. Using this method in conjunction with a spoolie want to comb them out is a great way to take care of your lashes for an extended period of time.
Do Not Play with your Eyelash Extensions
Keep your hands off of your extensions. Your eyelashes are going to she naturally, and this shedding will push your extensions out making them look off. Avoid twisting or pulling them off in order to prevent your natural lashes from being removed.
Get Your Eyelash Extensions from Dallas' Best Location
If you are in need of eyelash extensions and want the best service, Luxx Lash Salon and Boutique has the team that your eyelashes need. Get in touch with us today to schedule an appointment.