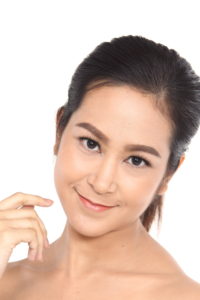 It's no secret that full, thick eyebrows have made a comeback in the past few years. Celebrities like Cara Delevingne, the Kardashians, Lily Collins, and Demi Lovato have inspired and continued to fuel the trend with their gorgeous brows. For those who aren't naturally blessed with dark and feathery frames or are still recovering from the super thin brow trend of the 90s and 2000s, there are several beauty products and procedures that promise the same look. However, not all products and procedures are equal.
Eyebrow extensions and microblading are the most popular beauty procedures for fuller brows, as they offer the most natural-looking results and are the most long-lasting. But what is the difference between the two? As experts in both procedures, your friends at Luxx Lash Salon & Boutique have the answer.
Application of Brow Extensions vs Microblading
One of the biggest differences between microblading and eyebrow extensions is the application process itself. After all, they are two completely different procedures.
With eyebrow extensions, tiny, individual hairs are applied to the existing browline with a special adhesive. The shape of the brow can be customized – however, to get the best results – it is best for there to be an existing eyebrow to build upon, as the adhesive sticks better to hair than skin.
Microblading, on the other hand, requires no previous brow hairs at all. Rather than using hair to extend the shape of the brow, microblading draws tiny, hair-like lines directly onto the skin with a tool similar to a small tattoo pen. Drawing tiny hairs rather than the entire brow at once creates a surprisingly natural look, and prevents them from looking like they were drawn-on with a thick black marker. This makes microblading a great option for women undergoing cancer treatments or those who have little to no brows naturally.
How Long do Eyebrow Extensions and Microblading Last?
Eyebrow extensions can last anywhere from 10 to 24 days – perfect for a vacation, holiday season, or any other special events. Maintenance plays a heavy role in exactly how long they last. Avoiding oil-based cleansers and makeup removal products, friction from towels or pillows, and excessive exposure to water can help extend their life as long as possible. Luxx Lash Salon and Boutique offers Re-Brow Sets to keep your brows in tip-top shape while you have them.
With much less maintenance requirements, brows created by microblading last 4 to 6 weeks! Since they are essentially semi-permanent tattoos, they are more practical for long-term use. Touch ups can be done every 4 to 6 weeks to keep them looking flawlessly full and feathery.
Cost
Now that you know a bit about the differences between the procedures, maintenance, and longevity of eyebrow extensions versus microblading, it is safe to assume that one procedure costs a little more than the other. At Luxx Lash Salon & Boutique, eyebrow extensions start at $149 for initial application and can go up to $449 depending on the thickness and shape you desire. Re-Brow Sets, required for maintenance if you wish to keep them for longer than their average 10-24 day life, start at $55.
The initial cost of microblading is $450 regardless of shape or thickness, and maintenance every 4 to 6 weeks is $100. While it may seem like microblading costs a bit more than eyebrow extensions, depending on how often you maintain them and want them to last, they often end up costing the same at the end of the day.
Visit Luxx Lash Salon and Boutique for the Best Microblading and Eyebrow Extensions in Dallas
When the goal is bolder, thicker brows, microblading and eyebrow extensions are wonderful ways to achieve it. No matter what procedure you decide is best for you, your friends at Luxx Lash Salon & Boutique are experienced and use only the best products on every single customer. Give us a call today to schedule your appointment!