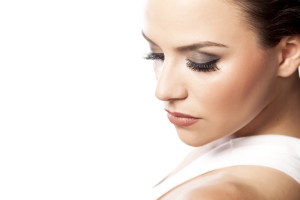 Although they have the same function and cosmetic benefits, eyelash extensions and false lashes are very different when it comes to appearance, lasting power, and cost. Knowing the differences between the two can help you decide which technique is best for you, your lifestyle, and the overall look that you would like to achieve. Read on to find out more about the dissimilarities between falsies and lash extensions. (Continued from Part 1)
4. Maintenance
Fake eyelashes are a temporary solution for achieving a bold, voluminous lash line. Hence, they are not worn for a long enough time to require routine maintenance. However, if you would like to reuse your lashes more than once, be sure to keep them in a designated container away from any moisture.
Semi-permanent eyelash extensions, on the other hand, require more maintenance since they are worn for a much longer period of time. In fact, if you want to maximize the beauty and life of your eye lash extensions, proper maintenance is a must. Wearers of lash extensions should stay clear away from any cleansers or beauty products containing oil, as well as any applicators that could contain lint – such as cotton pads. This, in addition to the use of standard mascara and eye makeup, could cause your eyelashes to shed prematurely. Eyelash extension salons such as Luxx Lash Salon & Boutique offer many products that are safe to use with your extensions. Also, it is highly encouraged to apply Protective Coating, which is made specifically to seal your lashes and keep out debris while maintaining a healthy, natural-looking shine.
If you would like your eye lash extensions to last as long as possible – up to one year if properly maintained – it's also important to revisit your eyelash extension salon every 2 – 3 weeks to refill any spaces and gaps that occur in between due to eyelashes falling out.
5. Lasting Power
As mentioned previously, eyelash extensions can last up to one year if refilled every 4 to 6 weeks. False lashes do not last nearly as long, as even the reusable ones can only be used a few times.
6. Appearance
Lash extensions are designed to replicate the look, feel, and texture of natural eyelashes. Although they are technically artificial lashes, they are made from high quality materials like mink hair and are applied individually. Hence, when applied, mink lashes create a light and feathery appearance. Falsies, however, usually come attached to a single strip and are created from much lower quality materials, which cause them to look unnatural and obviously fake.
7. Durability
There is a very small chance that you will experience your eyelash extensions falling noticeably off your face. They shed normally with your natural lashes. However, fake eye lashes can fall off very easily. Since they are all connected to the same strip, if the adhesive comes loose in one area, they will either fall off or hang off of the eyelid.
8. Activity
With both lash extensions and false lashes, you can engage in all types of physical activity as the sweat will not affect them. However, as you wash your face afterwards, it is likely that falsies will fall off. Be sure to avoid drying your eye area when patting your face dry, and your volume lashes will not be harmed in any way.
9. Damage to Natural Lashes
Xtreme lashes and false lashes are both safe to wear on your eyelids. As long they are not tugged off, your natural lashes will remain intact even after the artificial ones are removed.
Lash extensions are a wonderful option for women wanting full, gorgeous lashes that look and feel natural, are simple to maintain, and keep you looking like a superstar from the moment you wake up through the rest of your day. Schedule an appointment with Luxx Lash Salon & Boutique today!