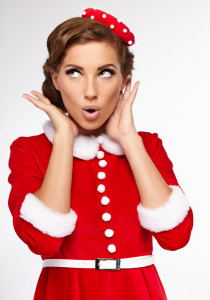 Holiday season is finally upon us! Whether you're decorating a Christmas tree, lighting a menorah, enjoying a Kwanzaa Karamu feast, or counting down for the New Year, the holidays are all about spending time with those you love.
As your calendar fills up with family dinners, parties, and other events, you've likely given some thought to your look for the season. Ruby red, emerald green, metallics, and sequins are all classic holiday wardrobe staples. No matter what your party ensembles look like, there's one accessory that will go with every outfit – eyelash extensions. Here are 5 reasons why lash extensions are truly a must-have for the holiday season.
1. They Save Time
The holiday season is an extremely busy time. From decorating to shopping for gifts, entertaining, and party-going, you need every minute you can get. Lash extensions can help you get more out of your day but significantly shortening your morning beauty routine. Eyelash extensions add both length and volume to your lash line, eliminating the need for mascara and eyeliner – often the most time consuming parts of makeup application. Besides washing your face, brushing your teeth, and applying some moisturizer, you can jump right out of bed and start running your holiday errands, all while looking perfectly polished.
 2. They're Long Lasting Lashes
Technically speaking, the holiday season is approximately 5 weeks long. It begins during Thanksgiving and ends on New Years Day with Hanukkah, Christmas, and Kwanzaa in between. This means weeks of parties and gatherings that you'll want to look your best for. Luckily, semi-permanent eyelash extensions can last up to 6 weeks, keeping you covered throughout the entire season.
3. They Help Save You Money
It's no secret that full, dramatic eyelashes add glamor and beauty to one's face. To get this effect, many women resort to using false lashes. Unlike eye lash extensions, most false lashes are disposable and can only be used once. This means that a new set of fake eyelashes would be required for every event or gathering. Hence, although they may seem less expensive than volume lashes, the collective cost of false lashes for all of your events can far exceed that of one set of eyelash extensions. Rather than spending a few dollars here and there for synthetic eyelashes, invest in one application of mink or volume lashes to save a bit of money.
4. They Look Great on Everyone
One of the most challenging parts of piecing together an outfit is finding items that have the right look and feel. With lash extensions, however, you can skip the stress of the dressing rooms and go straight to admiring how fabulous you look. No matter what your age, personal style, eye shape, or eye color, lash extensions are simply stunning on everyone. Not only do they add length and volume; they're also incredible lightweight, giving the appearance and feel of natural lashes.
5. A Gift to Yourself
During the holiday season, we're so focused on entertaining and purchasing gifts for others that we often forget about ourselves. There's nothing wrong with a little indulgence, especially when it has all of the beautifying benefits and convenience that lash extensions do.