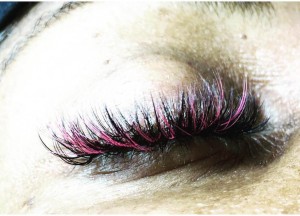 Every October, people all over the world celebrate Breast Cancer Awareness month. The purpose of this month is to bring attention to a very common and life-threatening disease that enters the lives of more than 200,000 women each year and claims the lives of over 40,000. However, over the years, Breast Cancer Awareness Month has been transformed into a celebration of the strength and bravery of women who are fighting or have fought breast cancer. One of the most universal and recognizable ways that people show their solidarity is to wear the color pink. While the month of October is coming to a close, with Luxx Lash Salon and Boutique's pink eyelash extension highlights by Xtreme Lashes, you can wear your support for breast cancer on your lash line all year long.
The History of Pink for Breast Cancer Awareness
If you had a dollar for every time you saw the color pink on a person or product in October, you'd be a millionaire by the end of the month. But how did pink become the official symbol for breast cancer awareness? According to the Maurer Foundation for Breast Health Education, the first uses of pink date all the way back to the 19th century. During this time, many women wore yellow ribbons to honor their fathers, brothers, and husbands serving in the military. The hit song "Tie a Yellow Ribbon Round the Ole Oak Tree" by Dawn reemphasized this practice, and families began tying yellow ribbons around trees as a tribute to loved ones held in the Iran hostage crisis.
The idea of wearing a colored ribbon to show support and solidarity spread over the years. Red ribbons were popular in the 80s and 90s to support AIDS awareness, and other causes and charities began adapting the concept to make it their own. In 1992, Alexandra Penney and Evelyn Lauder (the editor-in-chief of Self Magazine and breast cancer survivor and VP of Estée Lauder, respectively) joined forces to invent a pink ribbon. With 1.5 million pink ribbons, a breast self-exam card, and a petition to the White House to increase funding for breast cancer research, breast cancer awareness was born at Estee Lauder makeup counters all across the U.S. 20 years later, the color is still used as a symbol for health, life, and the empowerment of women.
Why Breast Cancer Awareness Matters to Luxx Lash
Working in the beauty industry, the majority of our clients are women. Our company's mission is to use our services to empower Dallas women of various backgrounds and age groups, and we pride ourselves on doing so every single day. We work to express our belief that every woman should feel strong, confident, and beautiful on the inside and out. According to BreastCancer.org, 1 in 8 American women will develop an invasive form of breast cancer during her lifetime and 40,290 women are expected to die this year. Reading these statistics, we don't just see numbers. We see daughters, mothers, wives, sisters, and grandmothers who are loved. We see our clients. And we see the need for a cure.
Throughout the month of October, Luxx Lash Salon & Boutique has contributed 10% of all proceeds from lash highlight services to Susan G. Komen. By doing so, we hope to support the hunt for a cure while educating our clients about breast health.
About Lash Highlights: Eyelash Extensions with a Flare of Color
Lash extension highlights provide everything that you love about mink lashes and eyelash extensions – volume, natural feel and appearance, feathery light weight, and elimination of the need for mascara – with an added benefit of personalization through a burst of color. You can choose from a variety of colors, including pink, yellow, blue, and green, and combine different shades for a unique look that will make your eyes pop.
With pink lash extensions that last 3 to 4 weeks, you can rock pink eyelashes to support breast cancer awareness all year long. They are a great conversation starter and support an amazing cause!