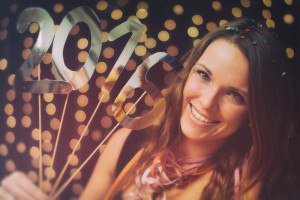 In addition to the opportunity for a new beginning, hope, adventure, and  excitement, a new year opens doors to new beauty and fashion trends. While some trends are reincarnated from the past, many are completely new ideas. Here are 7 of the hottest beauty trends to follow in 2023 for a fabulous new year.
Sparkly Eyelids
Whether you're looking for a subtle way to add a little extra glamour to an evening look or wanting to dress it up for a special event, glittery eyelids are a trendy way to amp up your look. To get the look, use loose glitter powder, sparkly eyeshadows, or glittery eye pencils. Begin experimenting with common metallic colors, such as gold and silver, and work your way into more bold options such as blue, green, and purple. If you wear eyelash extensions, be sure to stick to products that are safe to avoid lash extensions falling out prematurely.
Brushed-Up Eyebrows
While 2015 was all about "brows on fleek", natural, brushed-up eyebrows are what's hot this year. Rather than focusing on a deep arch and precise drawn in shape, give your brows room to grow for a more feathery look. Use an eyebrow brush to comb your brows up and add some extra fluff. If you have sparse or overly plucked eyebrows, eyebrow extensions are a safe, natural-looking way to add some oomph to your look.
Bold Yet Classic Lip Colors
Many crazy colored lipsticks filled makeup counters last year, including everything from white to cobalt blue. The boldness factor will carry into 2023, but with a more classic twist. Colors like deep pinks, reds, brown, and nudes are making a comeback. Also, forget the Kylie Jenner lip challenge because this year is all about embracing what you have. You can use lip liner, lipstick, or gloss, stay true to your natural lip line to avoid an unnatural look.
 Glowing Skin
A sunkissed glow is always in style, and it will continue to be in 2023. In addition to sunless tanning, use a touch of makeup to put the spotlight on your best features. Pat clear lip gloss on your cheekbones, nose, and your eyelids for a subtle sheen that will make you look like you're always in the perfect lighting. Think strobing, but less dramatic.
Short Nails
Many of the beauty trends in 2023 are toned down versions of our favorite trends in previous years. In the nail department, for example, crazy nail art will still be very much in style this year. However, long coffin nails, stiletto nails, and bubble nails are long gone. Keep your nails at a shorter, more natural shape. However, don't hold back from your favorite nail art trends, like matte polish, and out-of-the-box french tips.
Many celebrities have already begun chopping their locks for this trend. A long bob is extremely chic that is still lengthy enough to style and color. It's also much easier to maintain, which is always a big plus in the hair and beauty department.
Glamorous Lashes
Voluminous lashes had their big moment in 2015 and will continue to be on the beauty scene this year. Use lengthening mascaras to amplify your lash line or invest in semi-permanent lash extensions for thick, beautiful eyelashes that will last for weeks at a time.

No matter if you rock glittery lids, subtle strobing, lash extensions or all of the above in 2023, Luxx Lash Salon & Boutique wishes you a fabulous new year!